Body Treatments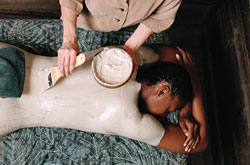 Marine Body Polish
Smooth refined buffing cream used for gentle all-over exfoliating.
Price: $65 Time: 45 minutes
Sea Salt Glow
Invigorating exfoliation with aromatic sea salts followed by our Signature moisture mist.
Price: $75 Time: 45 minutes
Caribbean Body Wrap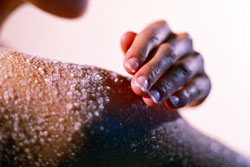 An intense moisturizing treatment using Caribbean Coconut and gelified mineral oils.
Price: $75 Time: 55 minutes
Mud Therapy
Designed to detoxify, soothe, and for anti-aging. All muds include exfoliating treatment.
Price: $95 Time: 60 minutes

60 min treatment $149.00
The FIT® Bodywrap system incorporates a dual action process: far infrared ray (FIR) heat along with our proprietary FIT® Booster Spray to enhance results.
Far Infrared Ray (FIR) heat from a FIT® Bodywrap works to get underneath the fat tissue, thinning the blood so that it can get into the areas where fat exists. The FIR technology used in FIT Bodywraps doesn't make fat leave your body but it breaks the fat down into fatty acids – the same ones used by your muscles to produce energy.
FIT® Bodywraps are perfectly safe, emitting infrared rays in the safe, 5 – 15 microns range closest to human bio-fields.
Applying heat to the body softens fat tissue and speeds up metabolism, causing fat to enter the bloodstream. Infrared technology heats your body safety and makes it sweat as a natural way to cool it down. This sweat is fueled by the energy from the converted fatty acids. This activity burns calories – up to 1,400 calories in a single hour!
"…Regular use [of a FIR sauna] may well be as effective a means of cardiovascular conditioning and burning of calories as regular exercise."** –MAJ Ward Dean


1). Flush away toxins, pollution and heavy metals.
2). Improve circulation and the rate of metabolism.
3). Improves skin tone and reduces the appearance of cellulite.
3. Strong therapy effect
By absorbing the energy eradiated by Far Infrared Ray, it will promote the blood circulation in your body and therefore accelerate the metabolism in your body, discharge toxic element.